Solar Hot Water systems come in 2 different styles that have multiple options in the water storage sizes, the way they heat the water and different designs to suit different home styles, climates and locations. The benefits in installing a solar hot water system is not only environmental with the massive power consumption reduction ……….There is $$ savings in your power bill
Roof mounted, Thermosyphon solar water heaters.
This is the older traditional solar hot water style where the tank and panels are located on the roof, these have been around for many years and do work efficiently to heat the water in the cylinder
This type of solar hot water heaters is just simple physics in the way it heats the water, cooler water falls to the lowest point, being the solar panels by pipes connect from the lowest position within the tank to the bottom corner of the solar collector and as the colder water temperature within the panels rises it transfers to the higher level, being the storage tank above the panels by a pipe at the highest solar panel point the via a pipe connects to a connection mid way up the tank on the opposite side where the cooler water falls down to the panels
In recent years the older systems would dump a lot of water out of the tanks pressure and temperature relief valve when it reached very high temperatures as the heat transfer just continued to boiling point
All new thermosyphon type solar water heaters have a valve on the flow line to the panels that resricts water when it has reached 60 deg C.
This does save the water loss but having a 60 deg restriction they do not become as efficient or store as much hot water.
They are also known to make a rumbling noise when a tap is turned on during the hottest part of the day, this is super heated water in the panels rising when the water pressure is dropped, this may even happen when a cold water tap is used.
The solar collectors also come in different sizes between brands to have different solar gain abilities
Evacuated tubes on roof mounted solar hot water systems is not advised, especially is Queensland as they provide way to much solar gain as will boil away most of the day.  Evacuated tube solars are really designed for locations a long way away from the equator, mid NSW and lower.
The storage tanks are available in both Stainless Steel and Vitreous Enamel lined Mild Steel
The biggest downfall these have is how aesthetically unpleasing these can be with a large tank on your roof and the weight it places up there as well, when full of water they are 500+ kg
Call us on 1300 218 122 for any further no nonsense advice on whats good and whats not
Below is a basic illustration on how these solar systems work
Ground Mounted, Split system solar hot water heaters
This solar hot water style is where the tank is located on the ground with only the solar collectors on the roof, they can be flat solar panels or evacuated tubes, but once again evacuated tubes are not designed for the Queensland climate and can boil away and make a lot of annoying rumbling noises
The hot water storage tanks come a few different sizes, generally 250 litre, 315 litre and 400 litres
They operate via sensor at the panels and storage tanks that take a simple continuity reading that equates to a temperature and then through a PCB board sends power to a small circulating pump to push water from the lowest point of the tank through the panels at a slow rate of 2-3 litres per minute allowing the solar panel heat to transfer and then back to the tank, in most cases mid way up the tank to then allow the natural transfer to the highest point of the hot water cylinder
There is a flow and return water pipe connected to the panels and tank that always should be made of copper to handle the temperatures.  Suncity Hot Water always use a continuous copper pipe with no joints or fittings in any roof space that is covered in a 25mm thick high temperature and UV rated insulation to prevent as much heat loss as possible when the water is being transferred
Between most brands they will not operate the circulation pump until the panels have a temperature 10 deg C above the water temperature within the tank
The panels are very efficient and temperatures rise very fast, it is not uncommon for water to be 120 deg C inside the panels
Some system allow you to have temperatures up to 75 deg C held in the tank
Once the tank reaches its desired temperature water is held in the panels until it is used and lowers below the parameters to have the pump operate.
The pumps make no noise and used very little power, most are 25 watts and below, to put it simply your clock on your microwave probably uses more power in a day than the pump
Using a reputable brand is advised that has quality components, cheap Chinese and other unknown foreign made systems has caused a lot of grief and costs to some consumers who made the "going for the cheapest" decision when choosing a solar water heater.  There really isn't that much difference in costs from a good brand to a disastrous one
Contact us on 1300 728 122 for unbiased, honest and factual information
Below is a simple drawing of how these solar water heaters operate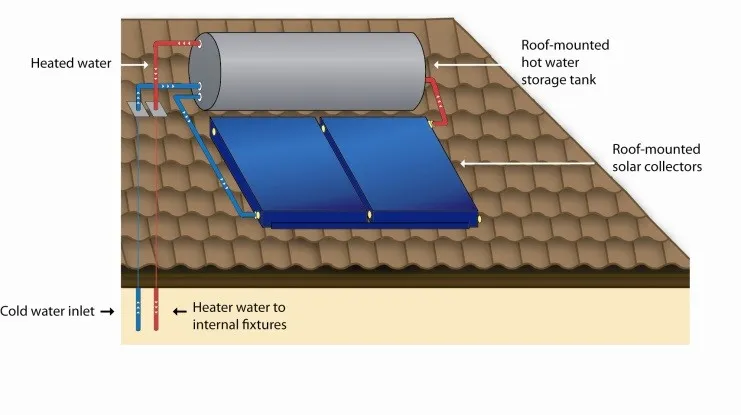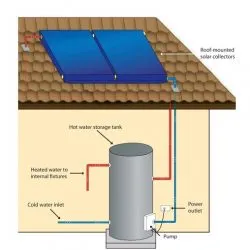 Flat Panel solar collector
The most common by far and able to be used in most climates and locations area Australia
These solar panels have a manifold of copper pipe work and flat plates that are powder coated black to absorb as much heat as possible that transfers to the water as it flows through either by thermsyphon transfer in roof mounted tank types (the natural fall and rise of cold and hot water) or by a circulation pump in split systems where the tank is located at ground level
They have a toughened glass top with a  full frame and base with insulation between the copper manifold and backing. Heat is trapped under the glass and provides a long lasting heat.
They can also provide some heat without direct sunlight, up to twice the temperature, so for example if it reaches 26 deg C the panels should be able to get the tank to 52 deg C on a overcast day where direct sunlight is not achieved
Depending on the size of your storage tank you would have 2 to 3 solar panels only
Evacuated Tube solar collectors
These are a series of glass tubes that have copper rod inside that has a fliud that heats rapidly and are inserted in a manifold to the highest point
The will have a mass of tubes 12, 18, 24 and 32 of them depending on you tank size and location
They are a bit too efficient for us here in Queensland as when the weather is good they will have sunlight and heating ability basically the whole day with around 250 degrees achievable around the glass tube
Designed for European type climates they do work well in lower New South Wales, Victoria, South Australia and the lower southern end of Western Australia, were they are further from the sun and have a different angle of sunlight
We don't recommend these to most homes, and there are very few suppliers of this type left in Australia now days
This type of solar collection is around $1000 more than flat solar panels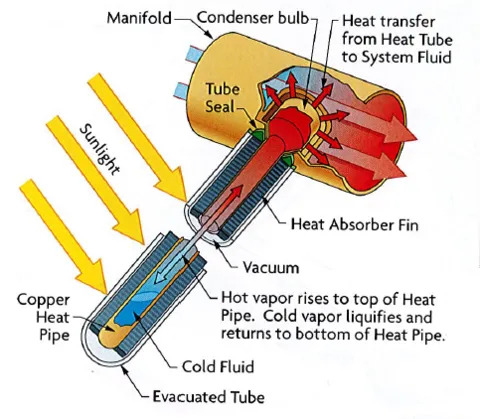 Contact us today on 1300 728 122
for expert, unbiased and factual advice from a local company
that has been in business right here in South East Queensland for over 20 years
You can even talk to us on weekends and after hours on 0413 861 166
SunCity Hot Water have stocks of various solar hot water systems right now in our Brisbane and Sunshine Coast warehouse's ready for a quick turn around on installation, we stock the main products we sell so there is no wasted time in ordering your new water heater and waiting for it to be delivered.  We also have Easy Payment Plans to help ease the initial outlay and have payment terms over 1 to 3 years with fortnightly payments after a small deposit that would equal close to your electricity bill's money saving
Suncity Hot Water supply and install solar hot water throughout Brisbane and the entire Sunshine Coast including Bribie Island and right up to Gympie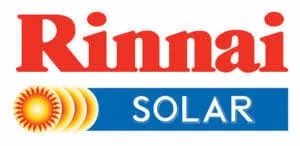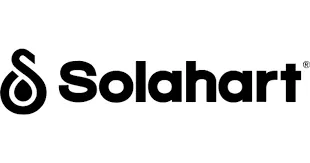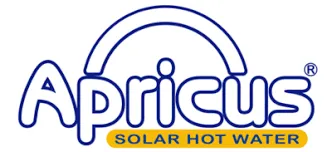 Lets us help you make the right decision on your Solar Hot Water Heater replacement and repairs
Suncity Hot Water have expert technicians to repair any kind of hot water heater
Call us NOW on 

1300 728 122 

  or   

0413 861 166

  after hours and weekends

Below are some 100% REAL reviews taken from google, facebook and other review sites, These are not the fake self written ones that everyone adds to their websites

Thank you for your honesty. Fantastic experience with your guys. Tradie left my yard in a clean state and well mannered with a new boiler installed and no problems. Definitely worth the phone call.
I had them out to my home yesterday after Jets plumbing came out and told me I needed a new water heater for $2270 when my old water heater was only 6 years old which seamed ridiculous and I do not have that sort of money floating around Turns out it only needed a new element and I saved myself over $2000 They came out within 3 hours of calling them and I had hot water again this morning, love hot showers in the morning, especially after 4 days of cold ones Honest, polite, knowledgeable and professional service provided
Needed repair on an evacuated tube HWS on my rental property. Great work and many thanks to Scott & Sarah for excellent prompt service that had it fixed quickly & without any fuss. Definitely recommended.
Saw an advert on a community page on Facebook. Sent the business a message and within 6 hours I had a technician onsite and had the computer board replaced. Great Service, Great Communication. Thank you
Great knowledge base and very helpful, even though we were not going to be customers (we are in NSW) these guys gave us the information we needed to fix our solar hot water system. If you have any doubt, check out the blog - these guys know theirstuff!
Excellent service and good sound professional advice, had a Dux heat exchanger hot water system fail. Called Dux who did not want to discuss as it is out of warranty, they arranged for their local guy to call me, spoke to a helpful lady who was going to ask the technical guy to call me, as they wanted to come out and charge me for telling me what I had already told them, this was 10.00am 14th December. In the meantime called Sun City as they originally installed this when I built the house 8 years ago, they were like a breath of fresh air, gave sound advice and installed a Bosch system the next day, with a better warranty, technical spec, and cheaper than the DUX. Still waiting the call from the DUX installer.........