SunCity Hot Water is a specialist hot water business that operates out of and services Brisbane and the Sunshine Coast right through to and including Bribie Island and up to Gympie

We have highly trained expert hot water technicians that hold plumbing, gas fitting, electrical and refrigerant gas licenses to carry out the diagnosing, repair and installations of every type of hot water system whether it be an Electric, Gas, Solar or Heat Pump, we have you covered, no need to call multiple trades, we do the lot and we do it properly

We give a Life time Guarantee on all workmanship
We are also entrusted by most of the reputable hot water heater manufacture's in Australia to carry out warranty and service work on their behalf. We have extensive knowledge of the inner workings of most hot water systems
Why wouldn't you trust the people the hot water makers trust, that just makes it a smart choice
You can not beat the honesty, integrity, knowledge and service of a business that is one of the original Hot Water Heater Specialists in South East Queensland. We have been in business right here for over 20 years now and will be around servicing the Brisbane and Sunshine Coast region for a lot longer, a family owned and operated business
Brisbane and Sunshine Coast Offices
Mon – Fri 7.30 am to 4.00 pm
After hours and weekends Call

0413 861 166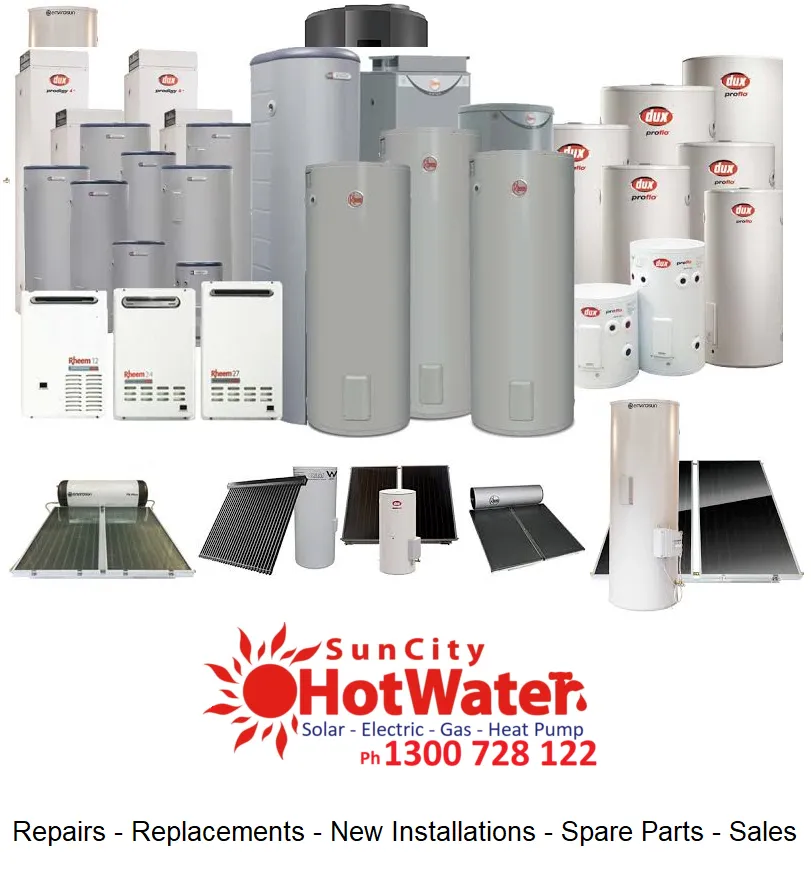 Why choose SunCity Hot Water?
SunCity Hot Water is a family owned and operated company that has successfully in been business servicing the south east Queensland region for well over 20 years. Brisbane, Sunshine Coast, Bribie Island and Gympie, we have you covered for all of your hot water needs, hot water heater repairs and hot water system replacements
We have installed 1000's upon 1000's of 1000's of hot water systems over the years and are highly regarded within the industry for unparalleled knowledge and we are also trusted by most of the well known hot water manufactures to be their approved service agents, like Rheem, Vulcan, AquaMAX, Bosch, AVG valves, Rinnai Envirosun and Enviroheat to just name a few
There is a lot more to hot water heaters than just connecting them up like the old school plumber did in the past and with the strict government regulations and all the environmental energy saving types available, hot water is a specialist trade now days, we don't do blocked drains and gutter replacements, all we do is hot water
We can in most cases repair any reputable type of hot water heater if it is not leaking water from the tank and that's generally done the same day you call us
So not only do we install all types of hot water systems, electric, gas, solar and heat pump but we can repair and service them, we hold plumbing, gas fitting, electrical and refrigerant gas handling licenses to do the lot
We are not a internet business that contracts work to the cheapest "tradie" they can find to just sell you a new hot water heater, all our hot water system installations and repairs are carried out by our full time, fully licensed and insured staff, we will not contract your work out.
We are about service not just getting new hot water system sales. We will repair wherever we can and give you honest unbiased advice
Request A Quote / Want Some Information ?
Send us a email with your contact details and issues your having and we will get back to you as soon as we can
(This may take up to a couple of days depending on our work load and amount of enquiries received)
So for urgent repairs, advice and installations call us on

1300 728 122

or after hours and weekends on

0413 861 166
Real reviews by real people taken straight from facebook, google, local search and other review sites
Quick and easy. I needed somework done fast and SunCity hot water really came through for me. Will definitely look them up first next time. Pricing was rather reasonable as well which always makes it better as well
I called and spoke to Jess at 630am today. Within 10mins we discussed and booked in a new hot water system. The new one is now installed and I cant be happier and very eager for a hot shower. Very professional and helpful. Would recommend this business to anyone. Thanks for the tip-top job guys.
The communication was very great with a lot of very helpful information. Making life with a new born much easier to not have to think too much. thank you
Prompt and efficient service from the initial call to Darren then within an hour had Sam on site who fixed our Solar heater problem . Professional to deal with, answered all our questions in a detailed and friendly manner. Well done
Disclaimer- Installation and Pricing
All Payment plans are to approved persons, fees and charges may apply, prices may vary from any discounted pay on installation prices quoted, terms and conditions are given on application from company supplying funds.  
Life time guarantee is given on all workmanship for the period that the manufacturer warrants product for and what is a reasonable life expectancy when a maintenance schedule is adhered to as suggested by the manufacturer. 
All prices quoted are under the assumption that your existing plumbing and electrical services meet current safety and council regulations and have clear, level  and safe access