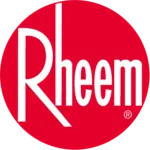 Rheem hot water systems is undoubtedly the most recognised name in hot water heaters in Australia.
Rheem manufacture a large range of their hot water systems here in Australia and also use hot water heaters that are made in Japan and Vietnam.
Rheem has been making hot water systems for Australia since 1939 after starting out as a drum manufacturer in Sydney.
Rheem hot water systems is the number 1 hot water brand in Australia, they manufacture
Instant Gas hot water heaters

Gas storage tank hot water systems
Heat pump hot water heaters
Solar hot water systems in both roof mount and split types
Commercial hot water systems
Pool heat pump heating
As a company Rheem Hot Water own and manufacture under a few different well known brand names
Rheem
AquaMAX
Vulcan
Solahart
Raypak
Rheem products are manufactured to a good reliable standard throughout their range of water heaters, with the exception of the heat pump which unfortunately has had its share of problems and have left a lot of people vowing to never have another Rheem hot water system again.
Overall SunCity Hot Water would recommend most Rheem hot water systems